RG Macon & Carson Apple Brandy
Macon & Carson Apple Brandy originated in Bentonville, AR in 1893.  At one time, the distillery was the largest distillery west of the Mississippi River.  In 1914 the distillery closed it's doors forever when Prohibition came to Arkansas. 
In 2016 we began our journey to resurrect a part of history that has deep roots in Northwest Arkansas.  Using regionally sourced Apples and distilling the spirit in Northwest Arkansas was at the core of how we wanted to resurrect this spirit.  We are confident that the Macon brothers would be proud of our apple brandy.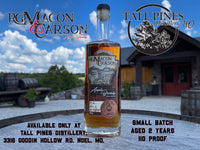 Ozark Reserve 110 Proof
RG Macon & Carson have teamed up with our friends at Tall Pines Distillery in Noel, Missouri to release Ozark Reserve Brandy. This is bottled at 110 proof!! This is only available at Tall Pines Distillery.
Profile Review
"On the nose, it opens with floral
blossom, pear blossom, orange zest,
dried apples and apricots.

On the front end of the palate, is
a burst of brown sugar, caramelized
apples with a hint of warm, salty,
crust in the middle and allspice
on the backend like a fried apple
pie explosion.

This has a medium finish of aged,
Arkansas Black Apples and
sweet warm spice."
Becky Yannayon
Executive Bourbon Steward &
Wine Sommelier at Belle Meade Estates
Award Winning Apple Brandy
We entered our apple brandy in the Las Vegas Global Spirits Awards and took home a SILVER award!
Ozark Reserve - Coffee
RG MACON & CARSON APPLE BRANDY SOAKED SPECIALTY COFFEE!
Makes a great, local NWA gift for friends and family across the country! The historic and unique taste of NW Arkansas and the Ozarks for the Holidays!
Shop Now
NWA ALIVE | RG MACON & CARSON
What is Apple Brandy?
Apple Brandy is made by distilling fermented apple juice.  Want to know more? 
Click Here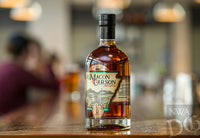 The Distillery
We have teamed up with Falling Rock Distillery in Huntsville, AR which is one of the few licensed distilleries in Arkansas. 
Click Here